Why settle for low-quality answers to your high-quality building projects? Triad Corrugated Metal's Building Systems are available in a wide variety of applications and colors, perfect for any commercial, agricultural or residential project. Our Building Specialists are available to assist you throughout the entire building process, from beginning to end, and can offer many design options from which to choose. If simplicity is your goal, we have numerous stock plans that will meet your demands. Do you have a vision for your final building? Let our Design Team help realize that vision with a set of custom designed plans. For the weekend warriors, choose from one of our building kits that have everything you need to construct the project yourself.
Visit Triad Corrugated Metal today and let us help you build your dreams.
Building Systems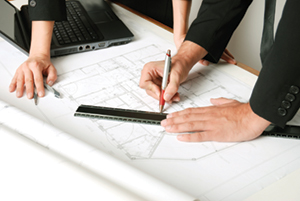 The Triad Corrugated Metal building systems design team is dedicated to ensuring that our customers develop a design that meets their needs and fits the vision for their building. The members of our design team have years of experience in design, estimating, architecture and construction. The team not only understands the challenges you face in designing and constructing your building but they are equipped to help you overcome any of those challenges.

At TCM we understand that each project is unique and requires special attention. Our process ensures that each customer gets exactly what they need out of the design of their building. Not only do we help you design the building system to fit your specific needs but we work with your budget to maximize the benefit of each dollar you spend.

Our design team is ready to help you plan your next building.