About Us

Extreme Makeover
TCM and Extreme Makeover: Home Edition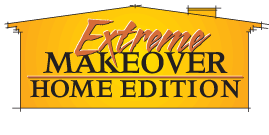 You probably saw on the news that Extreme Makeover: Home Edition came back to North Carolina, but did you know that Triad Corrugated Metal was able to take part in this exciting and historic event? On November 11, 2009, the Creasey family in Lexington, NC, received a knock on their door and found the Extreme Makeover: Home Edition Team, lead by Ty Pennington, on their doorstep, ready to provide them with the dream of a new home.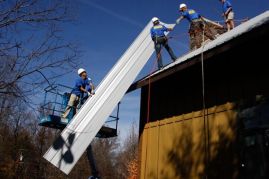 Volunteers and EM:HE Team members destroyed the old house, laid a new foundation, framed, finished, trimmed, decorated and furnished the new home in one week's time (106 hours). A community service project was also coupled with this dream come true for a truly historic event. When the house was finally revealed to the family, the roof was outfitted with Triad Corrugated Metal's
AG Panel
in Classic Light Gray (a Sil-Poly Paint). Triad Corrugated Metal is excited to have been involved in this project and was on-hand the day of the build to offer assistance and suggestions. The family information and location of the home can be viewed at
www.hedrickextreme.com
, along with a photo gallery and a listing of news and events.